German federal government focuses on bioeconomy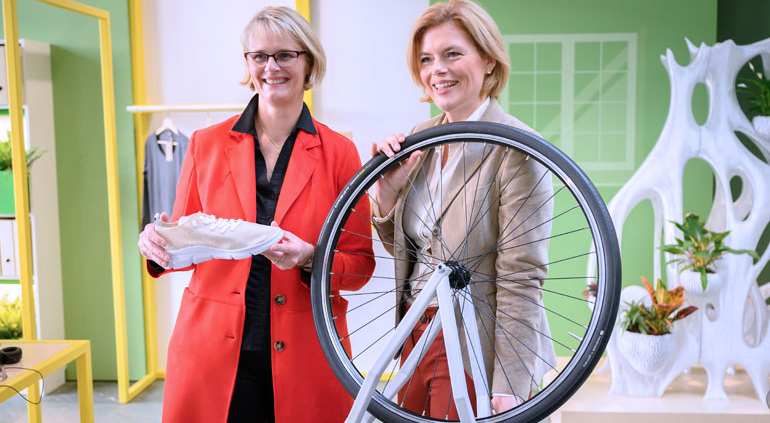 BMBF/Hans-Joachim Rickel
The German government has adopted a new national bioeconomy strategy. In Berlin, two Federal Ministers presented the goals on the way to a bio-based, sustainable economy.
Expanding the bio-based economy
The new German national bioeconomy strategy sets the framework for the sustainable development and use of biological resources and environmentally and nature-friendly production processes in all economic sectors. With the overall strategy, the Federal Government is bundling the activities of all federal ministries on the bioeconomy to date and setting the course for further development.
Federal Research Minister Anja Karliczek and Federal Agriculture Minister Julia Klöckner presented the new bio-economy strategy at a press conference in Berlin. "Not least because of climate change we have to rethink. We have to do everything we can to preserve our livelihoods while remaining economically strong. The bioeconomy is key to reaching this goal", said Karliczek. The new strategy therefore aims to make even greater use of biological knowledge, resources, processes and systems in all economic sectors.
Around 3.6 billion euros for a sustainable bioeconomy
According to the ministers, the German government will invest up to 3.6 billion euros over the next five years to implement the bioeconomic strategy. The clear focus of the strategy is on sustainability, said Minister Karliczek. "We will specifically promote innovations that take into account the climate, the environment and the stress limits of our ecosystems. A sustainable economy not only helps us to achieve our global sustainability goals, but also secures us a leading position in the markets of the future in the long term." Federal Agriculture Minister Julia Klöckner: "The bioeconomy is promising especially for agriculture and forestry. As central producers of raw materials, our farmers are the supporting pillars of the strategy. While we have to import many fossil resources, the renewable ones are growing around the corner. On our fields and in the forests," emphasized Klöckner. "Tires made of dandelions, car doors made of hemp fibers or rubber boots made of corn. These are just a few examples that illustrate the potential and practical relevance of research." Klöckner had brought a particularly light bicycle helmet made of a wood-based material to the press conference.
Science Year 2020: Bioeconomy in the spotlight
In order to strengthen the development of a sustainable bioeconomy also internationally, close links with industry and cross-border cooperation are to be expanded. For the bioeconomy to be effective, however, it must above all meet societal demands and needs. It is therefore important to conduct an open discussion and to involve all social groups. This is why bioeconomy is the topic of the German Science Year 2020. (You can find more information on the German Science Year Bioeconomy here).
Source: biooekonomie.de
https://be-rural.eu/wp-content/uploads/2020/01/ministerinnen-strategie-produkte_hjr_6156.jpg
433
770
c.robijns
/wp-content/uploads/2019/04/BeRural_Logo_web_500px-300x300.png
c.robijns
2020-01-30 19:55:53
2020-01-31 15:29:56
German federal government focuses on bioeconomy