Bio-based innovations took central stage in Strumica, North Macedonia
As part of the month long Open Strumica Festival, a big tent was set up for five days in the very centre of Strumica, North Macedonia, where passers-by could find inside a bio-based pop-up store showcasing more than 50 sustainable products coming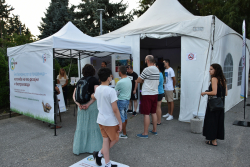 from more than 20 different countries, including the five Open Innovation Platform countries where the BE-Rural project operates.
Facilitated by SDEWES (Macedonian section), an opening event took place on Friday 30 July where project partners and stakeholders from the municipality administration of Strumica had the chance to meet and introduce Janevski Kosta, the Mayor of Strumica, to the pop-up store. A delegation from the Polish Open Innovation Platform had accompanied to Strumica Barbara Michalska, the Deputy Mayor of Swinoujscie, where the last BE-Rural pop-up store had taken place, to meet with their Macedonian counterparts and learn from their respective bioeconomy strategy and roadmap development processes. This first day ended with a unique culinary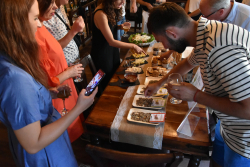 experience, a "Eat the bioeconomy" event offering a menu made of spiced crickets, chlorella algae pasta, beer made from bread residues, and much more. On the following day, a World Cafe session took place at the location of the pop-up store. The session was attended by 15 stakeholders who discussed the barriers that slow down the development of bioeconomy practices in the region, and the appropriate solutions to this issue. Participants also identified the actors who will be key in implementing a bioeconomy in Strumica.
In just five days, the bio-based pop-up store attracted more than 200 curious minds interested in learning more about the bioeconomy and the potential of their rural region. In addition to being promoted as part of the biggest local event of the year, the Strumica Open Festival, the pop-up store received coverage on several regional and national TV and radio channels, such as SRnet, Strumica Denes, Strumica Online, Klimatski Promeni, TV sitel, TV Telma, TV MRT (23″00′"), and TV VIS, among others.
You can find here more impressions from the pop-up store: