BE-rural contributes to the European Research & Innovation Days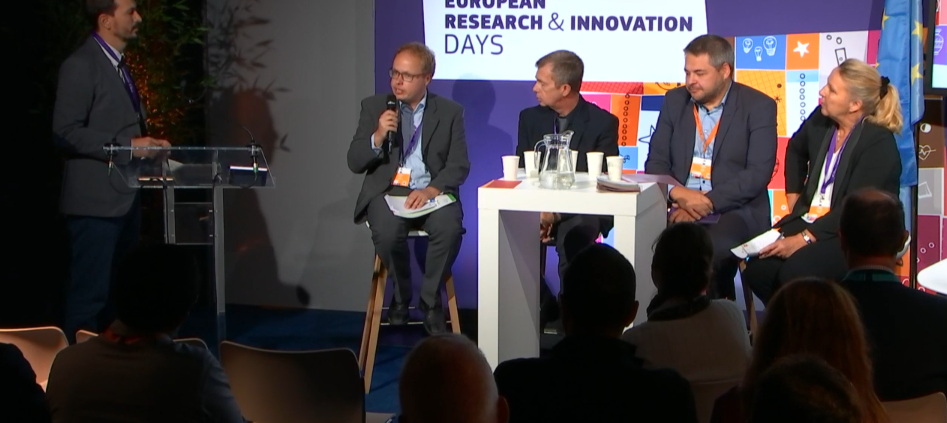 Around 4.000 participants joined the 2019 European Research and Innovation Days organised by the European Commission in Brussels. This large-scale event took place from 24. – 26. September with the purpose to shape and contribute to future research and innovation policy. Holger Gerdes, Senior Fellow at Ecologic Institute and project coordinator of BE-Rural, contributed to a panel discussion on the challenges and potentials of bio-based products.
Preparing Horizon Europe
The European Research & Innovation Days brought together researchers, scientists, innovators, policy-makers and featured three main elements: a high-level Policy Conference, the Innovative Europe Hub and the 'Science is Wonderful' exhibition of EU-funded projects. The event was part of the strategic planning process that sets the foundations for the first work programmes of Horizon Europe, the upcoming research and innovation framework programme of the EU for the period 2021 – 2028. Carlos Moedas, European Commissioner for Research, Science and Innovation, opened the event stating that "science and innovation in Europe is moving into a new era, with new leadership and new challenges." Several parallel sessions followed the opening keynotes – among them talks about the innovation principle and sustainability, bioeconomy and plastics.
Bio-based economy – innovations in practice
The session "Bio-based economy – innovations in practice", attracted around 65 bioeconomy stakeholders who discussed the main challenges and potentials of bio-based products and innovations. Holger Gerdes contributed to the session on potential implications of bioeconomy policies in the context of the EU's Cohesion Policy, and on current limitations when assessing the environmental performance of bio-based products. "SME face difficulties when it comes to finding partners along new and adapted value chains", commented the BE-Rural project leader, while "in regions where the bioeconomy is now picking up speed, public agencies are in place and take the role as a match-maker or facilitator". This is positive for the regions where such agencies are in place, but has a negative impact on those that don't as the gap between these regions increases – something that the EU Cohesion Policy tries to avoid. With regard to the environmental performance of bio-based products, Holger Gerdes highlighted that there is still a "lack of evidence" to base decisions on with regard to environmental superiority. According to Gerdes, this evidence creation could be part of the upcoming Horizon Europe programme. The video recordings from the session can be watched online.
More information:
Session Speakers & Panelists:
Ignacio Martin, CIRCE Foundation
Holger Gerdes, Ecologic Institute
Malene Sand Jespersen, COWI
Riccardo Schiatti, Energochemica
Barna Kovács, BIOEAST Initiative, Permanent Representation of Hungary to the EU
https://be-rural.eu/wp-content/uploads/2019/10/Bildschirmfoto-2019-10-07-um-14.58.01.png
532
947
c.robijns
/wp-content/uploads/2019/04/BeRural_Logo_web_500px-300x300.png
c.robijns
2019-09-26 16:19:50
2019-10-07 16:24:39
BE-rural contributes to the European Research & Innovation Days